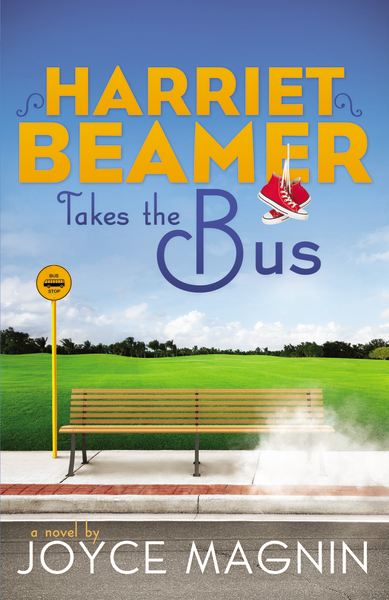 If you scan through the list of upcoming Christian novels, a quick glance tells you that most of the books in the genre star some version of a Pretty Young Thing. This isn't necessarily a bad thing, but it does make it refreshing when you run across a, shall we say, more "seasoned" heroine. Readers, meet Harriet Beamer.
Joyce Magnin's latest novel introduces us to seventy-two year old widow Harriet Beamer. After breaking her ankle and losing a foolish bet with her son and daughter-in-law, Harriet sells her Philadelphia home, puts her faithful dog Humphrey on a plane, and heads off for California to move in with her son. Harriet decides to make the journey her her way, though: Harriet Beamer takes the bus. By "bus", Harriet doesn't mean Grayhound, but public transportation. (Along the way she also travels by train, motorcycle, and helicopter). Harriet's goal is to travel from Philadelphia to California taking only public transportation--and picking up a few saltshakers along the way.
Harriet Beamer Takes the Bus
is an enjoyable light read. I was afraid at first that Harriet's son and daughter-in-law would be your basic stock characters of the overly ambitious daughter-in-law and the henpecked son. Thankfully, though, Magnin gives us more than that. Prudence and Henry shape up as well-rounded characters who also learn something about themselves through Harriet's journey of self-discovery.
I admit that one point I wondered how long it was going to take Harriet to get to that saltshaker museum--it seemed to take a really long time to get from Pennsylvania to Tennessee. One of the action scenes also felt a little out of place. Overall, though, it was an enjoyable read and one I would recommend. Readers who enjoyed the
Ivy Malone
series or the
Mitford books
will also enjoy this adventure with Harriet.
You can learn more about Harriet's journey by
reading her blog
, or by checking out
Joyce Magnin'
s website.
Thanks to Shelton Interactive for providing me with a free review copy of this book. All thoughts and opinions expressed are my own. I did not guarantee a positive review.